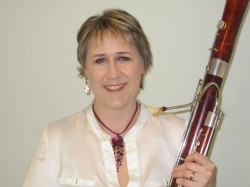 I established Portus Press in 2008 as a platform through which to sell the numerous arrangements I had created over the years for wind quintet, wind quintet and piano, and bassoon quartet.  In 2016 I started a new line in wind quartets for flute, oboe, clarinet and bassoon in response to customer requests for wind ensembles without a horn player.
I am a bassoonist and graduate of the Guildhall School of Music & Drama in London, and a player and arranger with over 20 years' experience.  Over the past nine years Portus Press has gone from strength to strength, selling music all around the globe.  The Portus Press catalogue has grown from just a handful of pieces to over 100.  I also offer a very small (but growing!) range of original works.  A number of my works have been broadcast on radio and primetime BBC TV (including the Liberty Bell March, in Miranda Hart's 'The Story of Slapstick'). Walton's Façade Suite is available on CD by Nicholas Daniel's Haffner Wind Ensemble and the Finnish Idée Fixe Wind Quintet included my arrangement of Bratton's Teddy Bears' Picnic in a CD of children's music released in 2010.
With music ranging from Praetorius to the Pink Panther that spans almost four centuries there's a great range on offer: something to suit all tastes and abilities (from Grade 5 up).  Many of the arrangements are of unashamedly popular music (great for encores and background music) but there are also a number of substantial, serious musical works.  My aim with every arrangement that I create is to provide imaginative and fun music that is entertaining to play and to listen to: every player has something interesting to do. 
In 2015 I also launched an Emailed PDF option – saving postage and waiting for the postman!  Most titles are now available as emailed PDFs: only those published under license and certain Gershwin and Abreu titles are only available as printed sheet music.  I also now offer alternative parts (to replace the horn with a second clarinet and/or the bassoon with a bass clarinet) for most of my wind quintets and wind quartets for a small additional charge
I do hope you enjoy the new site and all it offers.  I'm always keen to hear what you think: it's very easy to contact me. 
Explore the Portus Press catalogue in my shop …