Emailed PDFs are delivered free and are 25% cheaper than the equivalent printed version.
Pieces with copyright restrictions
Please be aware that pieces produced under license are not available as an Emailed PDF due to copyright issues.  In addition, there are a number of pieces that, again for copyright reasons, I am unable to sell to customers in specific countries: for instance, Gershwin titles are not available to US customers. This is clearly stated in the product description of the pieces concerned. Please be aware that if you add a piece of music to your basket that is unavailable to you you will not be able to proceed with the purchase of any of the titles in your basket. Once such pieces are removed from your basket you will, of course, be able to proceed with your order.
Ordering
Emailed PDFs are bought in exactly the same way as printed sheet music (and you can buy a combination of printed sheet music and Emailed PDFs) – just remember to select the 'Emailed PDF' option.  Alternative parts are only available as an Emailed PDF.
Delivery
Please remember that Emailed PDFs are not instantly delivered – as I have to email the links to you (!) – but I do aim to process your order within 24 hrs.  If you have ordered alternative parts I aim to get these to you within 3-4 days, but do please contact me if you need the parts very quickly.
I generally won't send the PDF directly to you as file sizes can be large.  Instead, once I have processed your order I will send you a Dropbox link so that you can access your files.  The dropbox link will be personal to you and will be password protected with your paypal email address including any uppercase letters.  If you would prefer me to send you the link to a different email address just pop a note in with your paypal payment to let me know.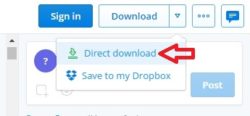 Once you have accessed the link I would advise not trying to print directly but to download the file first.
You can download your file(s) by clicking 'Download' (top right hand corner of the screen – see screenshot, left) and then choose either 'Save to my dropbox' (if you have an account, which is free) or 'Direct download' (or Direct zip, if you have bought more than one piece).
If you've chosen the direct download/zip option then you will next see the "Download and save directly to your Dropbox by creating a free account. Or, sign in." message box.  Assuming you do not have a dropbox account already (or want one) click on the "No thanks, continue to download →" link at the bottom of the box (see screenshot, right) and your file(s) will appear as a link at the bottom left of your screen.
Do be aware that the link will expire after seven days so please ensure you have downloaded your music before the link expires.
If you haven't received your Emailed PDFs within the expected time-frame do please check your spam folder.
Security features
All Emailed PDFs are stamped to the bottom left of each page of music with the words "Licensed to: your name".  Emailed PDFs are also password protected to prevent them from being altered, although you are free to save them to your computer/device.
Printing Emailed PDFs
Emailed PDFs are optimized for viewing/printing in A4 size and must be printed single-sided. Customer wishing to print to US Letter paper size should tick the option 'Fit to area' (or similar) in your print dialog box. US Letter and A4 sizes are not that dissimilar, so provided you select 'Fit to area' your music should be nicely formatted. If you wish to print to other sizes you may want to experiment with choosing "fit to area" and experimenting with reducing/enlarging the area to fit your specific paper size.
System Requirements for Emailed PDFs
Receiving Emailed PDFs requires that you use compatible computer hardware and software. A high speed internet connection is also strongly recommended, particularly as file sizes can be quite large.  You may need to download a PDF reader such as Adobe (which is free).  Other PDF readers are available!
Refunds
Please note that once an Emailed PDF has been sent to you a refund cannot be made.  See Terms and Conditions for further information.
Problems?
If you experience any technical problems please contact me.